New Hampshire Motorcycle Accident Attorneys
Motorcycle Accident Lawyers focusing throughout the state of NH including Concord, Laconia, Gilford, Tilton and Rochester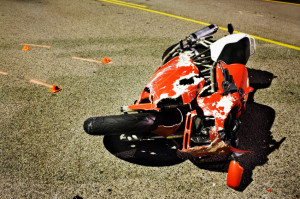 If you have been the victim of a motorcycle accident, the motorcycle accident attorneys at Lucas Law, PLLC, located in the Lakes Region of New Hampshire, are ready to help you. Although a majority of the drivers believe that motorcyclists are to a large degree responsible for accidents involving cars, statistical analysis proves differently.
When it comes to motorcycle accidents, according to researcher Harry Hurt's groundbreaking analysis, in two-thirds of motorcycle accidents that also involve a car, the driver of the car violated the cyclist's right of way. The most common cause of motorcycle accidents is the failure of the driver of the car to see the motorcycle.
Do You Have a Case?
If you have been in a motorcycle accident in New Hampshire, the lawyers at Lucas Law, PLLC, are ready to help you get the compensation that is rightfully your. Motorcyclists are open to the road and are highly susceptible to serious injuries.
Most motorcycle accidents occur at intersections where drivers are making a left turn in front of an oncoming bike. Often a driver's view is obstructed by glare or another vehicle. On the highway, many accidents occur because car drivers lose sight of motorcyclists in the passing lane. Another common cause of highway accidents is tailgating by car drivers.
Common injuries include traumatic brain injury (TBI), which can cause memory loss, confusion, and other symptoms; serious internal injuries; back injuries, such as painful spinal problems and paralysis, and broken bones. Injuries can be extremely painful, and rehabilitative efforts can take months and even years.
Compensation for Injuries and Damages
If you have been in a motorcycle accident that is the fault of another driver, you may be compensated for:
Medical bills associated with your injuries
Future medical bills
For lost wages
For your long term loss of ability to return to work
Pain and suffering
Emotional distress
Also, compensation may be granted for special job retraining, physical rehabilitation, ongoing psychological care, and medical devices and aids that may be necessary for your recovery and ability to function.
Proving Negligence
The attorneys at Lucas Law, PLLC, are seasoned in fighting for motorcyclists who have been the victims in an accident. Proving negligence in such cases is not always easy, as there may be conflicting evidence and often such accidents occur exceptionally quickly. A motorcyclist has less than two seconds to react to a car driver's mistake. Witness testimony in such accidents can be cloudy, contradictory, or incomplete.
At Lucas Law, PLLC, we will utilize all police, EMT, and doctor reports; accident reconstructive evidence, and any video or photos associated with the accident. Our legal team will use every technique, tool, and resource, as well as their well-honed knowledge, experience, and skill, to win your personal injury case and to make sure that you receive the benefits that you deserve.
Talk to motorcycle accident Lawyers in the Lakes Region of NH at Lucas Law
Contact Lucas Law, PLLC, located in the Lakes Region of New Hampshire, at (603) 581-7102 for a free consultation related to your motorcycle accident. We fight case for the victims injured by auto accident in Concord, Rochester, Laconia, Tilton and throughout NH. One of our motorcycle accident attorney in the Lakes Region of NH will discuss your case, offer their insights and analysis, and suggest the next steps you may take. At Lucas Law, PLLC, we will work tirelessly to make sure you receive justice.