Truck Accident Attorneys New Hampshire
Injured? Contact Our Truck Accident Lawyers serving Rochester, Laconia, Gilford, Meredith and throughout NH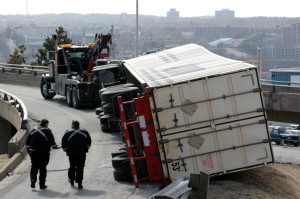 If you have been injured in a truck accident due to the negligence of the commercial driver, the truck accident lawyer in NH at Lucas Law, PLLC, in Rochester, Gilford, Laconia and throughout New Hampshire, are ready to serve you. In truck accidents, more times than not, the truck driver's the person at fault in the accident. If you have been injured in a truck accident, you may find that defining whom to bring suit against may be a tricky proposition.
Who Is Responsible?
One of the most difficult tasks in bringing a truck accident personal injury case to court is determining who is at fault. Although the driver may be one party who is responsible, there are often others who may be named in such a suit. These persons include the driver's supervisor, the owner of the trucking company, the owner of the truck, and others.
At Lucas Law, PLLC, we will do everything in our power to make sure that the appropriate parties are named as defendants in your civil suit. By not suing the proper parties, those who would be considered to be negligent, a plaintiff runs the risk of having their lawsuit thrown out of court.
Truck Driver Negligence
There are various reasons as to why truck drivers are found to be negligent in auto accidents. Often drivers are proven to be at-fault due to inexperienced, fatigue, or aggressive driving. Other factors include poorly loaded or overloaded trucks, inadequately maintained vehicles, and unfamiliarity with the road. Distracted driving, which can occur for a number of reasons, is also an often cited cause of truck accidents. Finally, speeding can contribute greatly to an accident situation.
Major Injuries
The impact of a truck hitting a car at high speed can be devastating. A car is simply no competition for a commercial tractor-trailer, which has a mass that far overpowers just about any other vehicle on the road.
The result of such a mishap can be major, life-altering and even life-threatening injuries to car drivers and their passengers. A truck accident may cause head trauma and brain damage, internal injuries, and permanent disabilities. If one is killed in such an accident, then a wrongful death lawsuit would be in order.
What We Will Do
If you have been in a truck accident and suspect that the truck driver is at fault, it's important to contact a truck accident lawyer in Rochester NH as soon as possible. A personal injury attorney with success in settling truck accident lawsuits out of court and of winning them at trial, such as those at Lucas Law, PLLC, will be able to take the details of your case, develop a strategy, and create a solid case utilizing black box data from the truck, log books related to the driver and their truck, eyewitness accounts, reports from local police, and other such evidence.
Call Our Truck Accident Lawyer Rochester, NH Immediately
It is important to contact a truck accident attorney New Hampshire with experience and success in truck accidents as soon as you can. Our attorneys at Lucas Law, PLLC, which is located in Rochester and the Lakes Region of New Hampshire, bring a wealth of knowledge and experience in successfully pursuing lawsuits related to truck accidents. For more information regarding Lucas Law, PLLC, or to set up a free, no-obligation appointment, Call us at (603) 581-7102.