New Hampshire Prenuptial Agreements Services
Lucas Law PLLC, in the Lakes Region of New Hampshire, provides services related to prenuptial agreements to those who are planning on getting married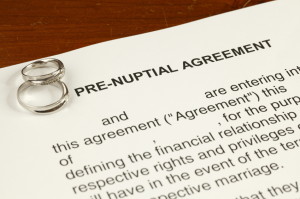 In recent years, prenuptial agreements have become a fairly common way to differentiate assets prior to one's marriage, as well as a way to delineate what the fiscal results of marriage and/ or divorce may be for each spouse. Designed to protect both parties, a prenuptial agreement is an important financial document for each spouse should their marriage end in a divorce.
What is Covered in a NH Prenuptial Agreement
Prenuptial agreements cover a range of areas, including stating the purpose of the agreement, which is to clearly describe what each spouse may call their own as they enter into the bond of marriage and what may be considered to be combined assets. A prenuptial agreement covers personal property, checking and savings accounts, stocks and bonds (includes closely held corporations), brokerage and financial accounts, and real estate. It may also pertain to other types of payments such as those received from royalties, deferred commissions, annuities, and other non-real estate contracts. Other types of property that may be included are automobiles, boats, and other vehicles. Finally, business ownership/interest, limited liability company (LLC) ownership/interest, personal liabilities, and other assets may be outlined.
In New Hampshire, there are specific requirements that must be followed for a prenuptial agreement to be legal and binding. If those requirements are not adhered to, then the prenuptial agreement is not considered to be legal. New Hampshire has not enacted the Uniform Premarital Agreement Act (UPAA), which is a Uniform Act governing prenuptial agreements. The National Conference of Commissioners on Uniform State Laws drafted the act in 1983. However, the state's prenuptial statute does closely follow the UPAA guidelines.
NH Prenuptial Agreement Guidelines
The prenuptial must be in writing.
Oral prenuptial agreements are in no way binding or legal.
The agreement may not be signed under duress. Both parties must voluntarily sign it.
The agreement may not place an unreasonable burden on either party.
Neither person may be left destitute by the prenuptial.
The prenuptial agreement has to be notarized.
Finally, during the marriage all parts of the prenuptial agreement outlined must he followed or it may be ruled to be invalid.
In order to make sure that you are adequately covered and fairly dealt with in your prenuptial agreement, it is important to seek counsel from an attorney who is experienced and knowledgeable in creating and executing such documents. Remember that a prenuptial agreement can be a major factor in determining your future financial situation should your marriage end in divorce. It is a legal and binding document. In the Lakes Region of New Hampshire, the legal professionals at Lucas Law PLLC, are experienced in providing professional services for prenuptial agreements.
Help in Protecting Assets
The primary reason for prenuptial agreements is to protect the assets of each party who is entering into a marriage. Although such a document is exceptionally important if someone has many more assets than the person they are marrying, a prenuptial agreement does protect both parties. In addition to shielding your assets in the event of a divorce, such agreements may also protect your property and other assets in the event of your death. This can be a very important document, and it should not be taken lightly.
Contact Us for New Hampshire Prenuptial Agreements
If you are going to enter into a prenuptial agreement or if you have questions about such agreements, contact Lucas Law PLLC, in the Lakes Region of New Hampshire at 603-581-7102. Our attorneys who are knowledgeable of and experienced in this area of family law will be glad to discuss prenuptial agreements with you. Although you are not required to utilize an attorney when creating such an agreement, a lawyer can be extremely helpful in developing a document that is equitable and that will help to ensure your future if your marriage should end in divorce.