Fall on Ice? It Might Not Be Your Fault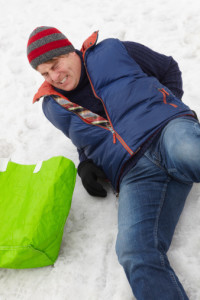 Winter is here, which means more snow, rain, sleet and, of course, ice. As you are walking outside your local grocery store or even in the parking lot at your apartment complex, you could slip and fall on ice. And, a slip and fall injury does a lot more damage than most people realize including long-term injuries that require extensive medical care. Slip and fall injuries are one of the most commonly filed personal injury lawsuits in the United States. But, there are thousands more slip and falls each year that go unreported because consumers do not realize they have options. Instead, they pay for their medical costs and time off work from their own pocket. The truth his, they don't always have to.
Where Did the Slip and Fall Occur?
If the area where you slipped and fell was on someone else's property (including a business's property), the property owner may have failed to take the necessary steps to prevent your injury. And, you could hold that owner liable for your injuries, time off work, and all associated medical bills.
Determining Fault in Weather
When ice or snow accumulate naturally, it is not the duty of the owner to remove all ice on his or her property, especially immediately after a heavy snowstorm. But, there is an exception to this rule. If the conditions of the property led to the unnatural ice accumulation, then the owner could be held liable for your injury. Some examples of this could include, but are not limited to:
Ice on the roof of the building melts and then forms ice patches on the ground below due to a clogged drain or gutter.
Slopes, patches or other deformities in the parking lot areas led to an unnatural accumulation of snow and ice. Also, owners of parking lot areas are responsible for keeping those areas safe. Proper and regular maintenance includes filling holes, patching any cracks, etc. that could lead to an injury.
Getting Help for Your Slip and Fall Injury
Slips and falls, especially on ice can lead to serious injury. To receive medical compensation for all of the bills and care that accumulate and are needed after a fall, you need the assistance of a skilled personal injury attorney. Contact the team of personal injury professionals at Lucas Law today by calling 603-581-7102 for a free consultation. Related Posts :